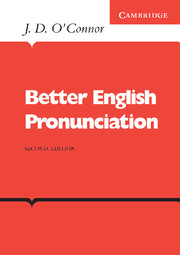 Better english Pronunciation
The purpose of this book is very simple: to help you, the reader, to pronounce English better than you do now. Millions of foreign students want to learn English as well as they can, for some it is only a matter of reading and writing it, and they will find no help here.But many students want to be able to speak English well, with a pronunciation which can be easily understood both by their fellow-students and by English people, and it is for them that this book is specially intended.
Chào bạn, bạn đang xem bài viết Better english Pronunciation, bạn chưa đăng nhập, hãy đăng nhập với chúng tôi ngay tại dây qua facebook! để có thể comment yêu cầu hoặc nhận thêm nhiều đặc quyền download sách khác!


Nếu bạn thấy hay và muốn nhận được nhiều thông tin học tiếng anh bổ ích hàng ngày thì like fanpage để ủng hộ ebooktienganh.com phát triển bạn nhé :)
Những bài viết hay có thể bạn quan tâm
Bình luận của bạn
3 Bình luận